read
NEWS: Getting Sustainability 'just right' with Goldilocks and the Three Bears
1 September 2023
Nottingham Playhouse has made Sustainability a primary focus in the last 10 years. From environmental improvements to our Grade II* listed building, to implementing sustainable practices in our productions, every department is challenged to improve sustainability.
Environmental retro-fit works undertaken in 2014, including solar panels and new vestibule doors, have led to a 54% reduction in energy use in the last 10 years, with a 12% reduction v the baseline in 2019/2020.
Goldilocks and the Three Bears, our Christmas show for younger children in the Neville Studio in 2022, was our first attempt at creating a show from scratch where we specifically targeted sustainability. In the last few years, the theatre industry has introduced the Theatre Green Book, an initiative to help us work more sustainably.
The Green Book sets standards for creating productions sustainably, for making theatre buildings sustainable and for improving operations like catering and front of house. The Baseline standard requires that 50% of materials should have had a previous life and 65% of materials should be reused or recycled afterwards.
On Goldilocks and the Three Bears, working to the Baseline standard, we were delighted to exceed that target, with 54.25% of materials having had a previous life, and 100% of materials to either be reused or recycled.
Carbon impact of materials
A further study by Nottingham Trent University (NTU) looked at the carbon impact of the set. Initially, they considered the impact of using virgin materials and normal disposal methods, through which they estimated the carbon impact at 587,293 CO2e*. In fact, after analysing the actual materials used in the show, the resulting CO2e measurement was just 35,751, a reduction of 93% on expected impact.
The analysis revealed that choice of materials is crucial. Not only in the individual impact of the materials, but the cost of transportation, which is largely affected by the weight of the materials.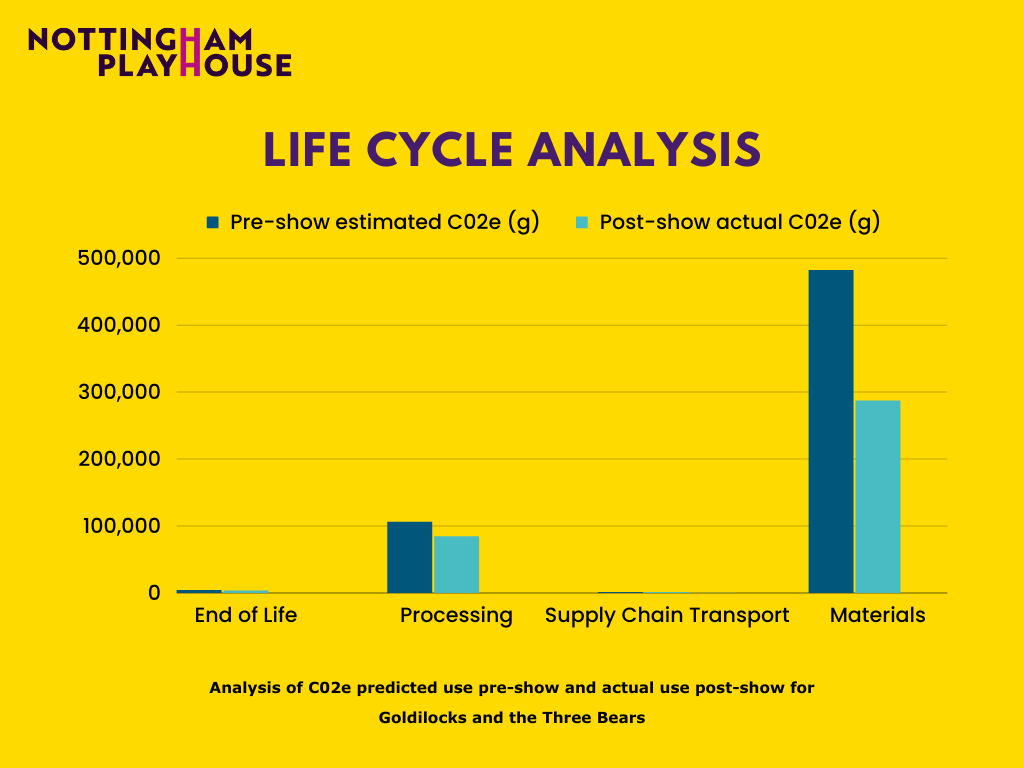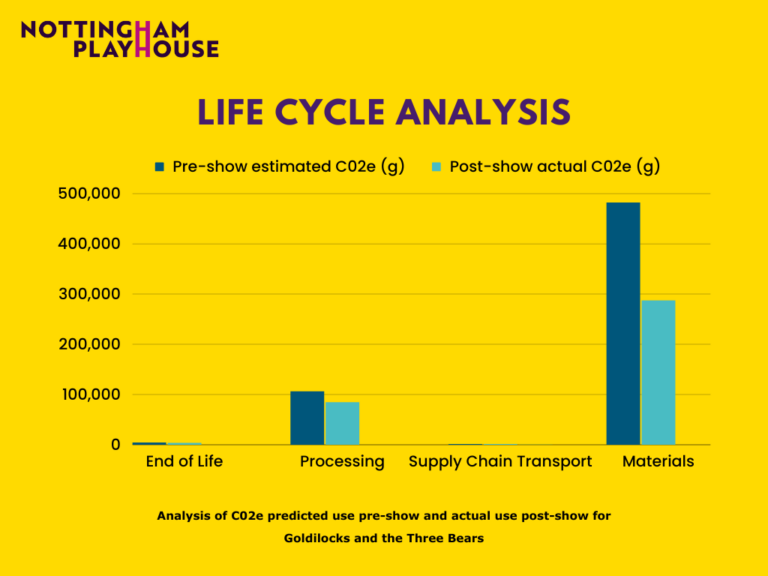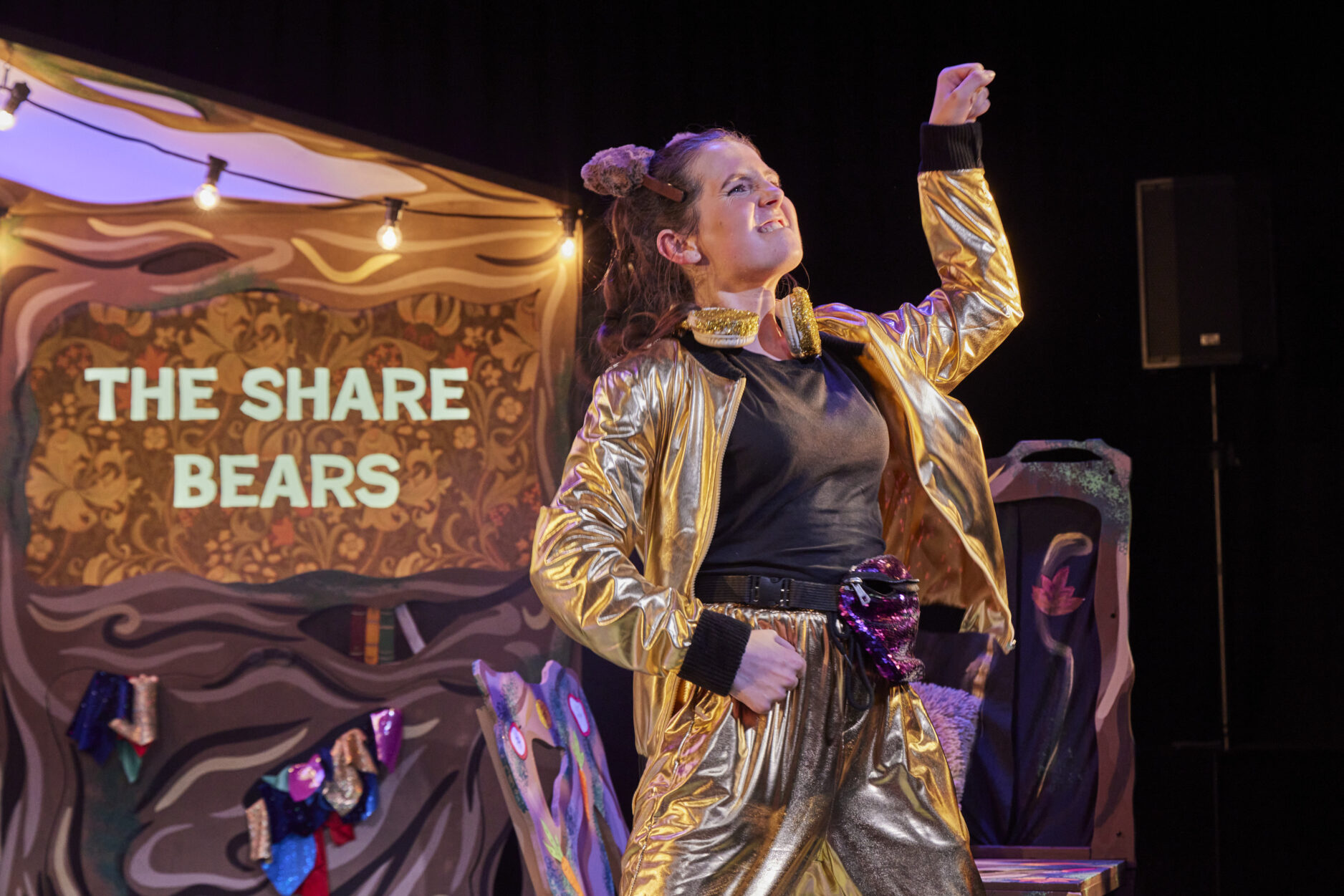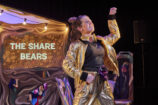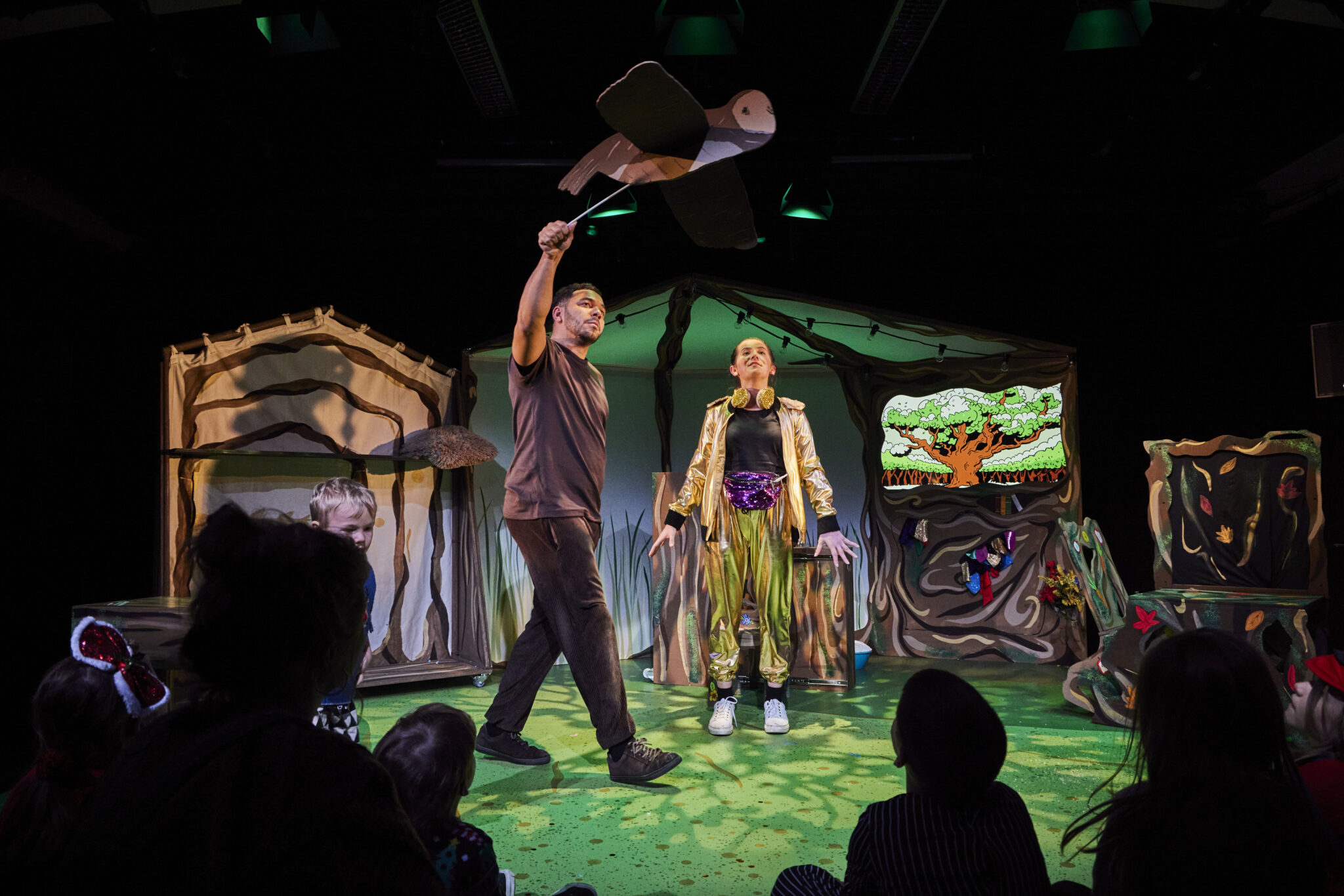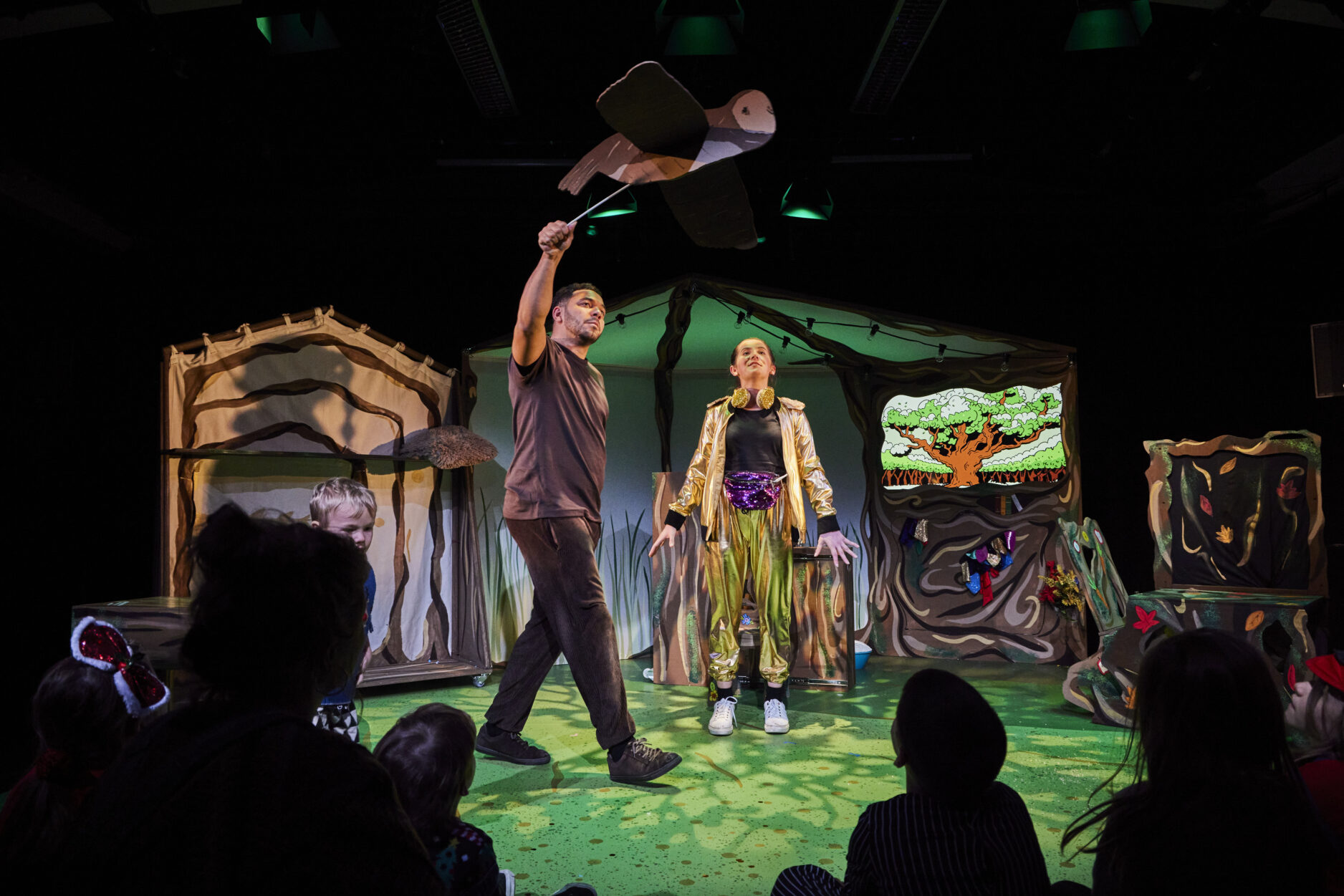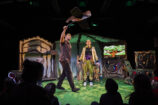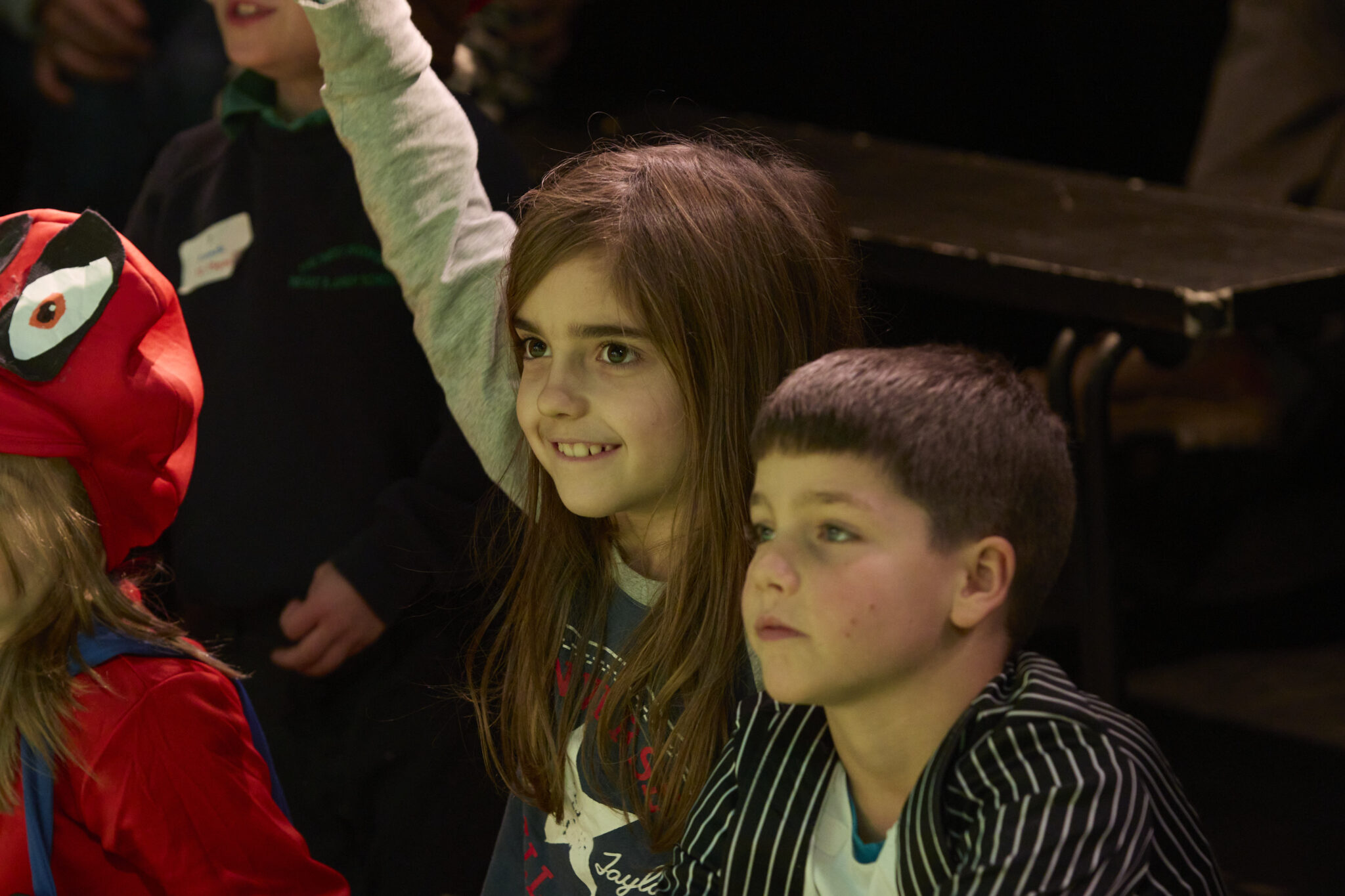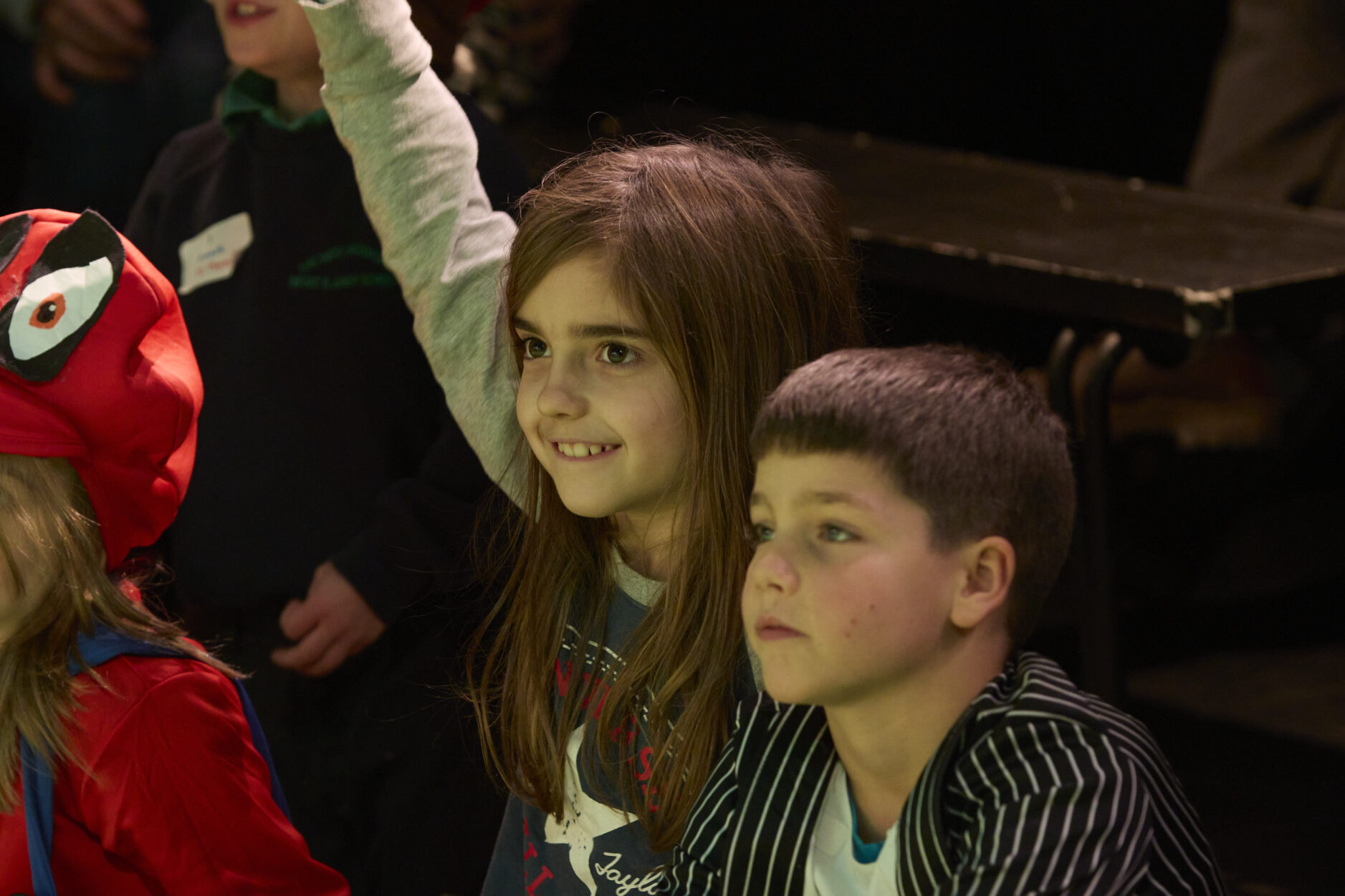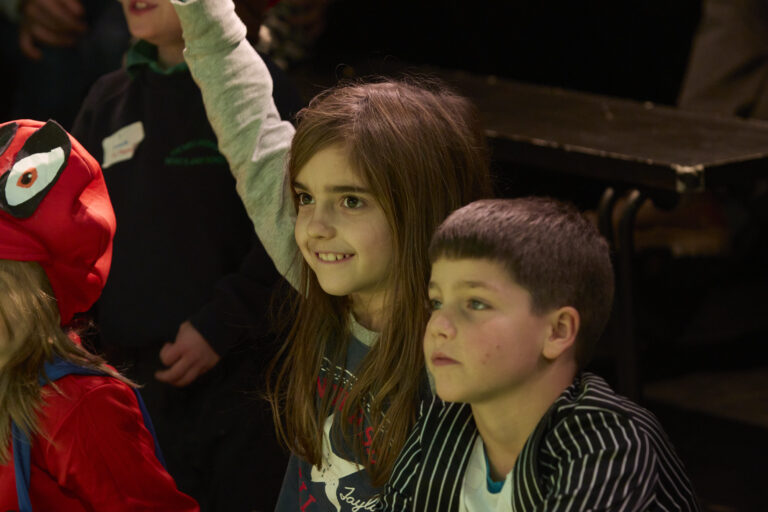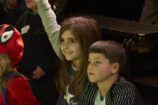 The Theatre Green Book process
Nottingham Playhouse runs an open call-out for the creative production team on our Christmas shows and it was made clear that the Green Book process would be followed and involved at every stage for Goldilocks. The Set and Costume Designer was appointed through the Playhouse Prize, an award given to an outstanding student from Nottingham Trent University BA (Hons) Design for Theatre and Live Performance student.
The format of the Neville Studio Christmas show is generally that there are two performers and a Stage Manager who also operates lighting and sound. The show is around 50 minutes long, with no interval. As it tours to schools in a van, the set needs to be compact, easily maneuverable and robust.
The Designer first looked at all the materials, costumes and props currently in stores which might be usable in their design and was able to incorporate some of these. To ensure the integrity and safety of the frame, new timber, metal and fabric were needed, but these were all purchased from manufacturers who have sustainability processes and were local, reducing the carbon impact of transport.
The workshop which builds our sets is less than one mile from the theatre and use 'off-cuts' from larger set builds to ensure best use of materials. Re-using and recycling materials can be more challenging and lead to longer build times than building from scratch, but this can be built into the process.
Much was learned from following the Green Book process which has fed into our knowledge and experience. Building in additional time, using in-house staff who have knowledge of what is in store and which suppliers are local, finding new ways of working, sourcing new materials and planning ahead so last-minute purchases are not necessary.
Targeting Carbon Zero
Nottingham Playhouse is a part of the Nottingham City Council Carbon Neutral Nottingham 2028 project and feel our responsibility to contribute to, support and improve the community we are a part of. We will continue to look at every department across the building to find ways in which we can improve our sustainability. All staff have recently been required to take Carbon Literacy Training, so that we are all aware of the immediacy and importance of taking action.
Notes:
*CO2e = carbon dioxide equivalent, which means the number of metric tons of CO2 emissions with the same global warming potential as one metric ton of another greenhouse gas