Welcome to Nottingham Queer Arts Collective. 
Our mission is to bring together LGBTQIA+ artists of all disciplines from in and around Nottingham to appreciate, liberate, and support our community and art. We do this by facilitating an on-going sharing of our resources, time and creativity, whether new or established in our practise, and celebrating the wonderful lives we live and art we create.
Members have access to:
Monthly meetings, on the last Wednesday of every month 7pm – 9pm
Rehearsal space at Nottingham Playhouse to support their own practice and existing projects
The supportive network of artists and venues we build together and offer each other
If you are aged 18 years old or over, have an interest in the arts/an artform and genuinely identify as LGBTQIA+ (or questioning), we would love you to join us at Nottingham Playhouse.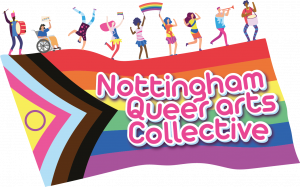 August Meeting
This August, one of NQAC's founding members, Octavia Nyombi, returns with a funky Live Art making workshop. No prior experience will be needed. The emphasis of the workshop will be to collaborate and get to know others in a chilled environment, while creating some iconic living statues. Rest assured, there will be all sorts of eccentric and rainbowy materials provided.
Octavia is a lead practitioner at Nottingham Playhouse. She has chaired their Youth Board for 2 years and co-runs The Phoenix Theatre Company with NQAC's Evangeline Osbon, for young women, trans and non-binary peeps aged 13-19.
Octavia is also a performance artist & a First Class Drama Graduate from De Montfort University, who performs, writes and directs too.
Her latest writing, 'We're sorry to report delays for a gay disaster', has just toured the UK within a collection of 5 short plays titled 'When all is said', curated by Travis Alabanza. And her voice has recently been released on Audible, as an audiobook performer for Bellies by Nicola Dinan – a queer love story currently being adapted for TV with Elemental Pictures.
Upcoming Meetings
The dates for the upcoming meetings are as follows:
29 November 2023

19 December 2023

28 February 2024
27 March 2024
24 April 2024
29 May 2024
26 June 2024
31 July 2024
Book your space at any of these sessions by clicking the Book Now button above.