Welcome to Nottingham Queer Arts Collective. 
Our mission is to bring together LGBTQIA+ artists of all disciplines from in and around Nottingham to appreciate, liberate, and support our community and art. We do this by facilitating an on-going sharing of our resources, time and creativity, whether new or established in our practise, and celebrating the wonderful lives we live and art we create.
Members have access to:
Monthly meetings, on the last Wednesday of every month 7pm – 9pm
Rehearsal space at Nottingham Playhouse to support their own practice and existing projects
The supportive network of artists and venues we build together and offer each other
If you are aged 18 years old or over, have an interest in the arts/an artform and genuinely identify as LGBTQIA+ (or questioning), we would love you to join us at Nottingham Playhouse.
June Meeting
At Nottingham Queer Arts Collective, our main intention is to let you speak your truth. There's no better place for that than in front of a microphone in a room of people who support you for exactly who you are. Whether you're a singer, poet, performer or queer individual that wants to stand in front of a mic or simply watch other people perform, come along to our open mic and be welcomed with open arms and a small selection of snacks.
We've extended this session as part of our Playhouse Pride events, join us 7pm – 10pm on Wed 29 June.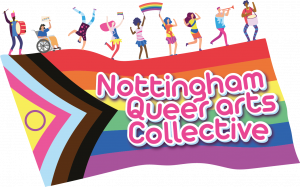 Upcoming Meetings
The dates for the upcoming meetings are as follows:
Wednesday 26 June 2022
Wednesday 27 July 2022
Wednesday 31 August 2022
Wednesday 28 September 2022
Book your space at any of these sessions by clicking the Book Now button above.