How We're Keeping You Safe
Following the UK Government's announcement on Wednesday 30 December, we are sorry to confirm that we are currently unable to open for in-person audiences.
As soon as we are able to open for live performances, we anticipate the following measures will be in place.
We want you to feel confident that you'll have a great experience when you visit and by following the guidelines, everyone – audience members and our team alike – can enjoy fantastic live theatre together again.
Frequently Asked Questions
How do I get to Nottingham Playhouse?
Whether you're visiting us for the first time, or have made changes to the way you usually travel, you'll find full details of how to find us here.
What happens when I arrive?
Members of our Welcome Team will be on hand to greet you on the forecourt in front of Nottingham Playhouse before the start of the show you've booked for. Please note that we'll ask you to wait outside the building until shortly before the show starts. Our foyer will be open for a limited time before every performance, so you should aim to arrive at the Playhouse 15 minutes before the start of the show.
Our Welcome Team will guide you to the entrance door shown on your e-ticket. Please have your e-ticket ready to show us on your phone or bring a print out with you. We'll scan your e-ticket as you enter the auditorium.
We'll also be remotely monitoring everyone's temperature as you queue through the foyer. If any audience members have a temperature of 37.5⁰C or above, we'll ask you to wait for 15 minutes before rechecking your temperature. If your second temperature reading is 37.5⁰C or above we will not be able to admit you into the Playhouse.
There will be markings on the floor to ensure you're able to stand socially distanced from others.
Can I collect my tickets at the Box Office?
In order to minimise queuing and maintain social distancing, we are currently only offering e-tickets which you must book in advance of the performance. You will receive your e-tickets via email after booking and you can print them at home or show them on a mobile device. If you experience any issues with your e-tickets, please email tickets@nottinghamplayhouse.co.uk or let a member of our Welcome Team know when you arrive at the Playhouse.
Do I need to wear a mask?
All staff and audience members over the age of 11 will be expected to wear a face covering at all times, including for the duration of the performance, except when eating or drinking.
Unless you are exempt, please ensure you put on a face covering when approaching Nottingham Playhouse. If you're exempt from wearing a face covering, please let one of our Welcome Team know when you arrive so they can make sure not to disturb you during the show.
Will I be able to sanitise my hands?
There are multiple hand sanitising stations throughout the foyers for your use. When you arrive we'll ask you to sanitise your hands.
Can I check in to Nottingham Playhouse with the NHS Test and Trace app?
If you are using the NHS Test and Trace app, you'll be able to scan our venue QR code in our foyer whilst you wait to be admitted into the auditorium.
How many people will be in Nottingham Playhouse at one time?
There will be a maximum of 327 audience members at any one performance. You can expect around 20 members of our Welcome Team to be on hand to make your visit as smooth and as safe as possible. That makes a total of 347 people in the public areas of the theatre.
How does social distancing work in the auditorium?
We have a socially distanced seating plan in place. This means we have reduced the auditorium's capacity and some seats will be marked off or removed to ensure everyone is able to sit socially distanced.
Tickets are only available in fixed groups, where from 1 to a maximum of 6 seats are grouped together. Each group of seats must only be booked by one household or support bubble and each group is distanced by 1m+ from other groups in the auditorium.  If your booking includes people from more than one household, each household will be seated separately.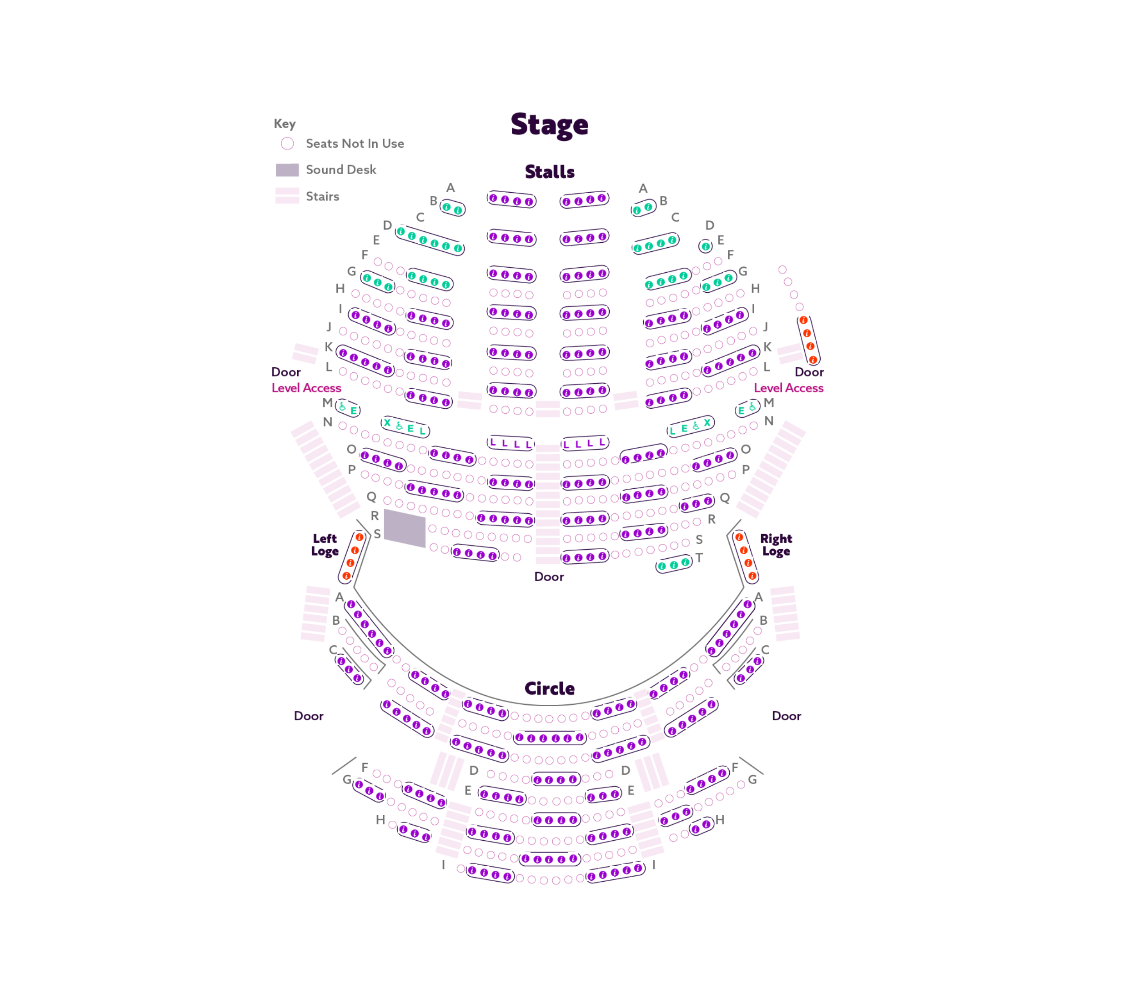 How many tickets can I buy in one transaction?
You can purchase up to 6 tickets in one transaction.
Can I bring a group? If I bring a group, do you need the details of all members of the group?
Group bookings should be made by contacting our Box Office team at tickets@nottinghamplayhouse.co.uk. To confirm your booking, we'll need to understand how many people are sat together in households or support bubbles. We will also need the group organiser to be responsible for communicating to the full group regarding NHS Test and Trace, should this become necessary.
Will I be able to sit with my friends and family?
We ask all our audience members to book to sit only with people in their household or support bubble. So if you live with your friends and family members, or have formed a support bubble with them, then the answer is yes. Otherwise, we ask you to book to sit separately from them and keep a 1 metre distance from them while at the Playhouse.
Will there still be provisions for people in wheelchairs?
Yes, customers who use wheelchairs will be able to book as normal.
Is the bar open? Can I buy drinks and snacks?
We are running an at seat service for food and drinks. If you pre-ordered your snacks when you made your ticket booking, we'll scan your food and drink barcode at the entrance along with your e-ticket. Don't worry if you didn't pre-order – you can also make an order via your mobile once you get to your auditorium seat. Our Welcome Team will be handing out cards with all the information you need to order. Either way, you'll have your order brought to you at your seat before the show starts.
As a result of Nottingham now being under Tier 3 restrictions, we are currently unable to serve alcohol to our audience members. Luckily, we have a great choice of alcohol free beers and spirits, Cawston Press soft drinks, tea and coffee, and sweet treats available for you to order with your drinks.
Will I be able to use the toilet?
Yes, you will be able to use the toilet. Our facilities may look a little different to allow audience members to maintain social distance.
You may not be able to use the facilities after the performance. Please take this into account beforehand.
Toilets will be cleaned throughout the day, before, during and after performances.
Will the cloakroom be open?
Nottingham Playhouse does not have a cloakroom. You will be able to take your belongings into the auditorium with you, but we ask that you please refrain from bringing large bags or luggage. There will be space set aside for mobility aids, pushchairs and buggies, which our Welcome Team will look after for you during the performance.
Will I be able to buy a programme?
No, in order to minimise queuing and reduce the number of surfaces you may touch at the Playhouse, we will not be selling programmes.
Will latecomers be admitted?
No, latecomers will not be admitted.
What happens at the end of the performance?
At the end of the performance, you'll be asked to remain in your seats until a member of our Welcome Team lets you know you can leave. This is so we can ensure a safe, staggered exit from the building.
Can I stay in the auditorium between shows?
No, to allow us to deep-clean the auditorium in between performances, we ask all audience members to leave straight away after seeing a show, even if they have a ticket for a performance later in the day.
Will I be able to meet the performer(s) at stage door?
No, in the interests of safety, we will not be allowing anyone to come to Stage Door without prior authorisation.
How often is the venue cleaned?
We have enhanced cleaning procedures in place to make sure everything is deep cleaned before anyone enters the building. The auditorium will be cleaned throughout the day, between every show. Our foyer areas will also be cleaned during shows, while audience members are in the auditorium.
How often are seats cleaned?
We clean the seats before and after every performance. We also regularly spray them with a virucide which remains active for up to 10 days.
How is air circulated in the theatre?
Our air handling system is fed by filtered fresh air. Used air is extracted to the outside and is not recirculated. Filters are changed as part of regular, routine maintenance and we have full control over the air system – both air volume and temperature – throughout the theatre.
What happens if the Government changes the Covid-19 guidance?
We're constantly checking Government guidance and always have contingency plans in place if the guidelines change.
If Government social distancing guidance changes closer to the time of your visit and we are unable to proceed with the show you have booked for, please be assured that you will be offered a full refund on your tickets.
Can I get a refund if I have symptoms or have been asked to isolate?
You are advised not to attend in person if you, or another member of your household, develop any symptoms of Coronavirus in the 14 days prior to your visit. You will be offered a refund for any unusable tickets in your booking (where you let us know in advance that you cannot attend), giving you peace of mind when you book.
Who should I contact if I show symptoms after attending the venue?
If you start to develop symptoms of Coronavirus, you should seek assistance from the NHS 111 service, self-isolate and get tested as quickly as possible. If you then test positive, NHS Test and Trace will ask you where you have been recently and who you have seen. They will then get in touch with anyone you may have been in close contact with to advise them on what to do next.
Will I be contacted if someone has Coronavirus at the venue?
If one of your fellow audience members tests positive for Coronavirus following a performance, you may receive a call from NHS Test and Trace, asking you to get tested or self-isolate. We ask that you follow any advice they may give you.
Can I see Nottingham Playhouse's full risk assessment document?
If you'd like to read our risk assessment documentation, please email our Box Office team at tickets@nottinghamplayhouse.co.uk
What if I don't feel ready to visit yet?
If you don't feel confident coming along to the venue in person, there might be another option for you. We're working hard to ensure we can livestream as many of our shows as possible, as well as offering an 'on demand' service for those who aren't free at the time of the show. Check individual event pages to see whether either of these options are available for your chosen show.
How can I get in touch with you about my visit?
If you have any questions or concerns, please email tickets@nottinghamplayhouse.co.uk and we'll get back to you as soon as possible.
Approved Member of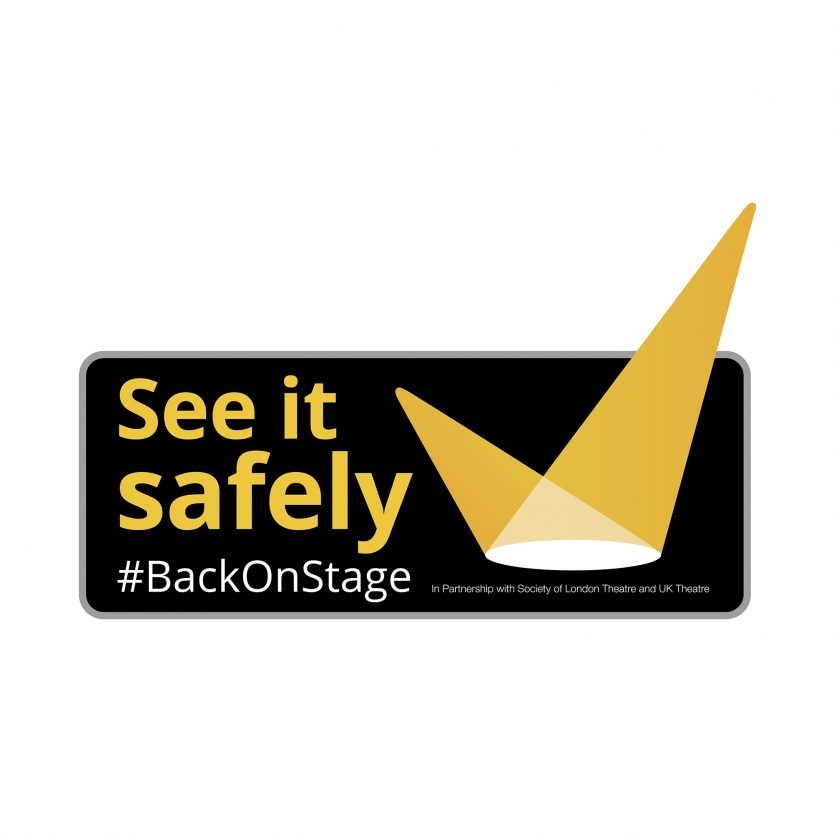 See It Safely Scheme